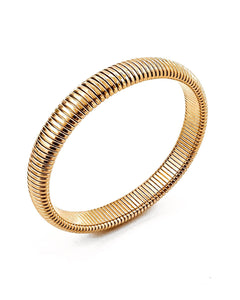 Baia Thin Coil Bangle Bracelet GOLD
The Baia Bangle is our new favorite! We love them layered together or as a statement piece to mix with the other bracelets in your collection! Check out the Baia thick for a bold statement look.
• Waterproof • Tarnish resistant • 18K Gold plated stainless steel • Hypoallergenic Care tips: •  Avoid contact with chemicals such as hairspray, lotions, perfumes, etc.
Béljoy is currently committed to building homes for women and their families in Haiti and investing in children's education.  The Haitian people have changed our lives, showing us that true joy, despite circumstance, can only come from Jesus. That joy inspires the name Béljoy: BÉL means beautiful in Haiti's native language of Creole. The Haitians' glad hearts are beautiful and their faces are a clear reflection of the JOY they have.